Tips to help you manage your alcohol consumption
Support
If you are concerned about how much you, or someone you know, drinks, there's lots of help out there. You can speak to your GP, find your local alcohol support service or contact:
Medical Warning
If you have physical withdrawal symptoms (shaking, sweating or feelings of anxiety until you have your first drink of the day) you should take medical advice before stopping completely – it can be dangerous to do this too quickly and without proper advice and support. Speak to your GP or call Drinkline free on 0300 123 1110 for more advice.
If you are concerned you might be drinking too much, here are some tips to help you cut down.
Understanding alcohol units isn't always easy but staying within the low risk limits will keep your relationship with alcohol in check.
The Chief Medical Officer recommends drinking no more than 14 units a week to keep your risks from alcohol "low risk". That does not mean safe levels but low risk.
14 units is equivalent to 6 pints of average-strength beer or a bottle and a half of wine.
Alcohol units explained
Have at least a few drink-free days every week. This can give your body a rest, boost your immune system and improve your mental health and wellbeing.
It can also help you feel more alive and alert at work or college.
Consider taking an extended break like having a Dry January or other dry month.
Even with days off alcohol, it is safest not to drink more than 14 units per week, spread over three or more days. Having drink free days and then bingeing puts your health at risk.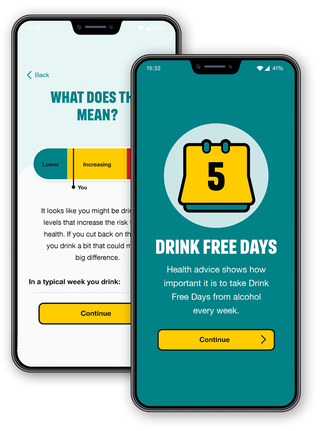 Drink Free Days app
Not everyone drinks alcohol, and it is fine to say no. It's surprising how many people think it's OK to pressure other people to drink – it's not.
If you let your friends and family know you're cutting down and it's important to you, you could get support from them. They might even join you.
Having a glass of water or a soft drink between alcoholic drinks can help reduce your number of alcoholic drinks.
And  if you are drinking, try to choose a drink with a lower strength %. Some lagers and beers now contain very high strengths.
Remember also that home-poured measures can be more generous that what you would get in a pub or restaurant.